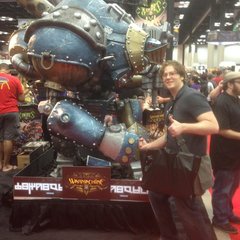 Michael Rookard
Illustrator and Comic Artist
Kansas City, United States
Summary
I am a freelance illustrator and comic artist. My clients include Fantasy Flight Games (Warhammer 40k RPGs), Paizo (Pathfinder), Privateer Press (Warmachine), Catalyst Games (Shadowrun), Dream Pod 9 (Heavy Gear), and other studios. I specialize in monsters, characters, gear, and epic illustrations. I am available for full-time, part-time, and contract work.
Skills
Concept Art
Digital Painting
Drawing
Comic Art
Software proficiency
Experience
Freelance Illustrator at Freelance Illustration and Concept Artist

United States of America

I have been doing illustration and concept art for a variety of clients since I attended my first Gencon in 2012, and plan to continue for the foreseeable future.

September 2014 - July 2016

At Degica, I created art for products on the store, ran a bi-weekly Battler (monster/enemy) initiative to give the community quality products, worked on several sub-contracted games, and assisted with their PAX EAST 2016 booth in setup and day-to-day.